Board Certified Veterinary Dentist
Endodontics, Orthodontics, Prosthodontics, & Facial Trauma
Dr. Rachwitz is a board-certifed veterinary dentist. This work includes endodontics (root canal), orthodontics, prosthodontics, facial trauma cases, and oral surgery. He is actively taking referrals from many Omaha-area veterinarians.
Unlike human dentistry, veterinary dentistry is always performed under general anesthesia. This allows a clean, secure airway to be maintained at all times, prevents aspiration pneumonia, allows the operator to clean subgingivally, and perform other tasks that cannot be done correctly in an awake or twilight-sedated patient. Pre-anesthetic physical exams and recent laboratory blood testing is required prior to the procedure.
Our licensed veterinary technicians can also be considered our pet dental "hygienists", as they have additional training and expertise in veterinary dentistry, oral surgery, and anesthesia. Just like at your dentist's office, they are responsible for cleaning and polishing the teeth in preparation for the dentist's examination, we call COHAT (comprehensive oral health assesment and treatment). Technicians also take the dental xrays and monitor vital parameters.
While most pet owners arrange an appointment as a drop-off, where they continue on to work or their other daily activities, you are always welcome to wait in our lobby during your pet's procedure. It is critical that we can contact you DURING the procedure (usually by phone) so that Dr. Rachwitz can discuss his findings and treatment plan. Whenever possible, all problems will be addressed on one visit, minimizing anesthesia. Some oral health issues by their very nature require extensive follow up, multiple rechecks, and multiple visits under general anesthesia. We will inform you of your options and cost estimates at the initial exam. Treatment plans frequently change once the anesthetized exam and radiographs (x-rays) are taken.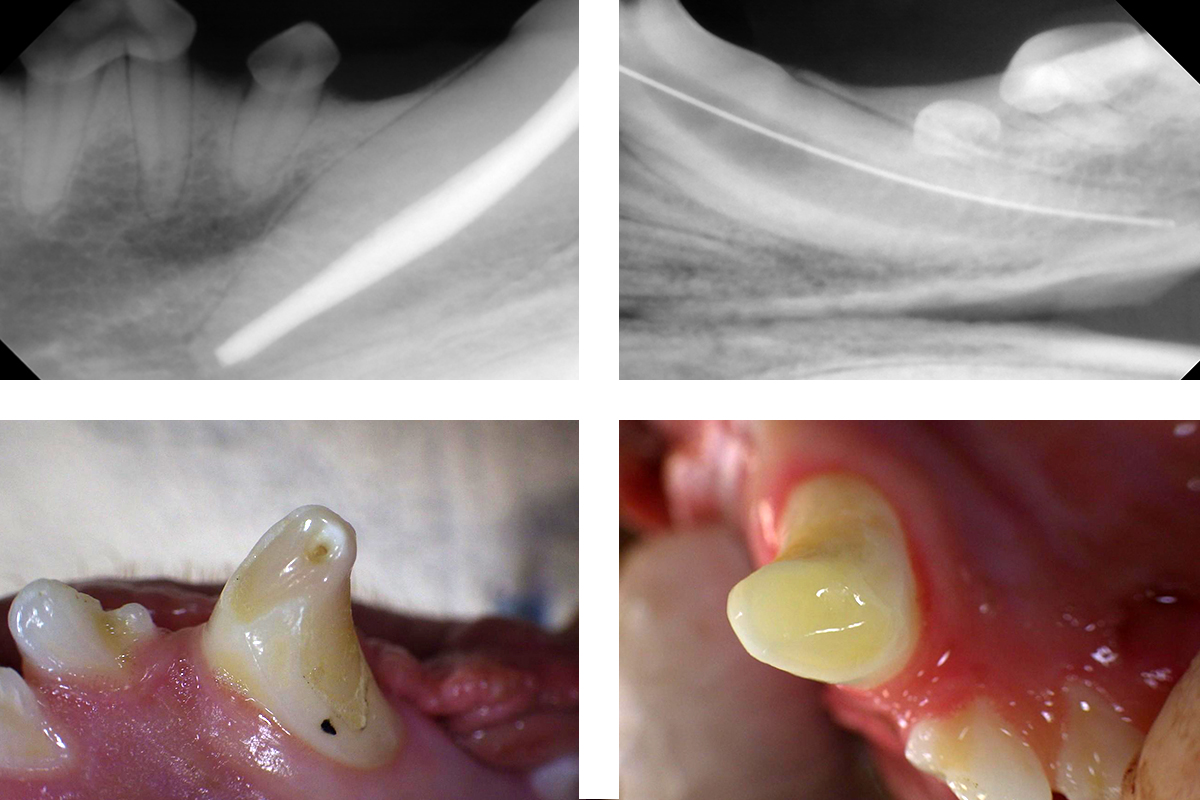 Endodontics
Fractured teeth are very common in the domesticated dog and cat. Once this fracture has occured, acute pain followed by bacterial infection and pulp sepsis ensues. For some pets, root canal of the affected tooth is a viable option to eliminate the pain, prevent infection from spreading to the supportive structures and soft tissues surrounding the tooth, and preserve the form and function of the tooth. If you have a pet with a fractured, discolored or painful tooth, we can advise you on the cause and if root canal is an option.
Orthodontics
The movement of healthy teeth from an incorrect to a correct position is performed when the patient's occlusion is causing unhealthy or painful tooth contact points on other teeth or the soft tissues. Correcting painful or harmful occlusal relationships can also be achieved by surgically extracting teeth, and reducing the height of the clinical crown. Many of these abnormal relationships can be recognized at very young ages (3-8 months) and should be corrected at that time.

Prosthodontics
The most common oral prosthesis for the veterinary patient in our office will be a full metal crown, cemented over the natural tooth to protect it. This is usually done on a tooth that has already had root canal treatment. More sophisticated prosthodontics cases will be referred to board-certified veterinary dentists which you can find listed here by state.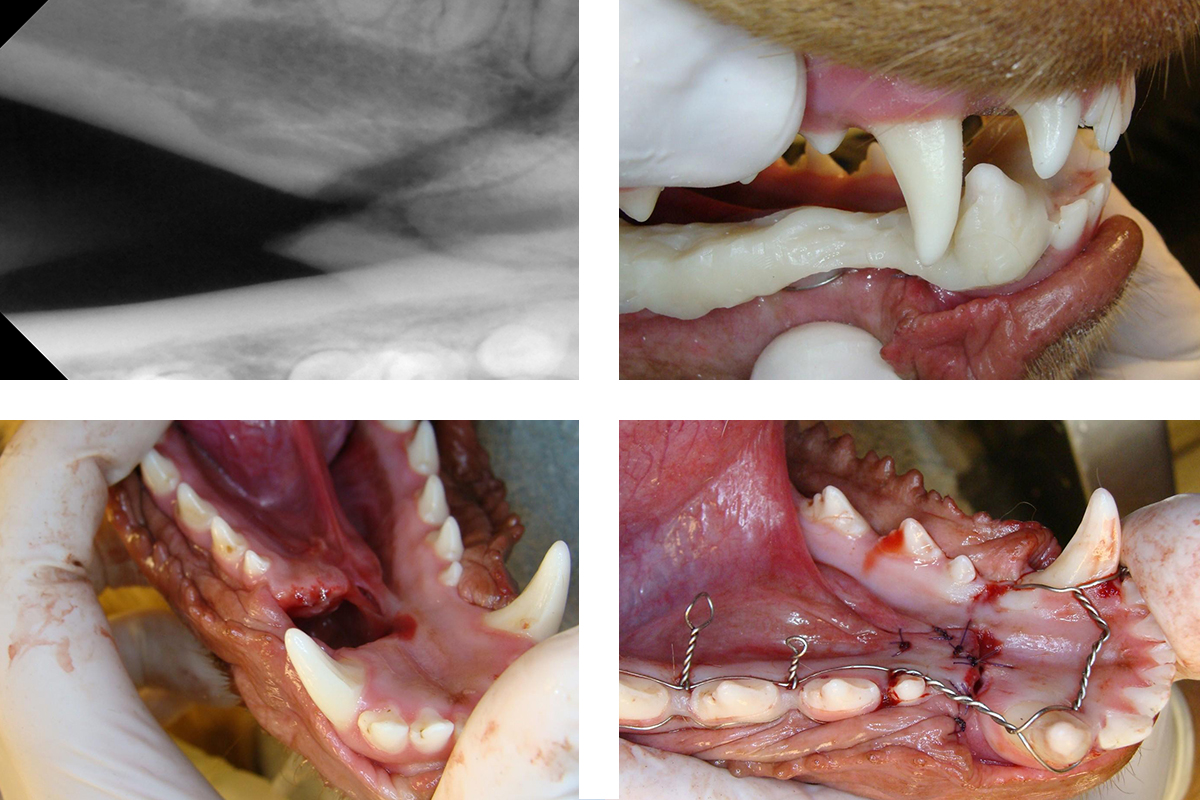 Facial Trauma
Creating symmetry to the face and restoring function after trauma can be achieved in a variety of ways. Many of these cases must be managed in a 24 hour facility and some require imaging, such as head CT (computed tomography) to correctly treat the patient. Mandibular fractures can usually be corrected and managed at our facility.